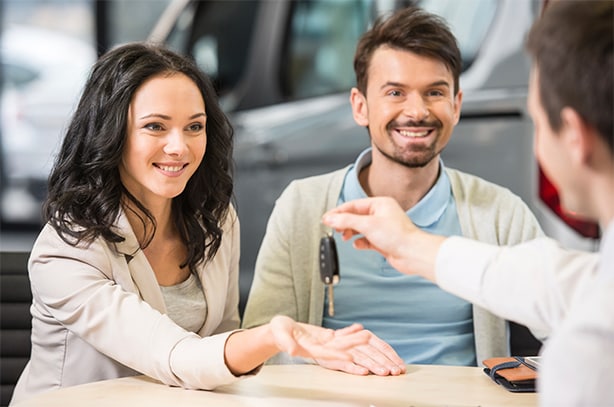 Auto Financing at Volvo Cars of Louisville
Personalized Financing
At Volvo Cars of Louisville, we take the time to get to know your needs and deliver a range of best-rate lending options that match your budget.
Easy Application
Getting approved for an auto loan at our Louisville location is as easy as 1, 2, 3. You can either fill out our convenient and secure finance application online, or come on in and our financial specialists can walk you through the process of getting approved fast.
Private and Transparent Process
We guarantee a no-hassle, transparent car-buying experience that leaves you informed and your personal financial information protected.
How Lenders Approve Customers for Auto Loans
For many customers, the auto loan approval process is complicated and leaves them with a long list of questions. How are auto loan decisions made? Will I be approved? Does my credit score matter? At Volvo Cars of Louisville, our financial specialists not only want to help you get approved; we want to make the process more transparent.
In general, loan decisions are determined based on a variety of factors. These factors include:
Down Payment: Down payment is a key factor in the loan approval process. Putting more down reduces the amount you need to borrow, as well as monthly payments. To lenders, a larger down payment reduces risk, enabling them to provide more attractive loan terms.
Trade-in Value: The value of your trade can cover or add to the amount of your down payment. As a result, a more valuable trade can result in an increased likelihood of approval.
Credit History: Your credit score is one indicator that lenders use to determine loan status. Yet, it's not the deciding factor.
Purchase Price: The overall purchase price of the vehicle and the amount borrowed are used to determine financial risk. Additionally, lenders look at vehicle data like model, year and mileage.
Financial Data: Information related to your personal finances - if you rent or own your home, monthly income, and employment history - are used to determine loan status.
Calculating Monthly Payments
As you begin to apply for auto loans, it's important to consider the amount you can afford to pay each month. Fortunately, calculating monthly payments is fairly straightforward, and the Volvo Cars of Louisville financing team is happy to help you estimate this number.
You can get started on your own, using our Payment Calculator. Payments are affected by three important criteria:
Loan Term: Auto loans are available for a specific number of months, which is known as the term. In general, loans are available on 24- to 72-month terms. A longer term results in reduced monthly payments.
Loan Amount: In addition to the term, monthly payments are also determined by the overall loan amount. Borrowing more results in larger monthly payments.
Interest Rate: The Annual Percentage Rate (APR) of your loan is the rate at which interest accumulates. A lower APR means less interest accumulates, resulting in reduced monthly payments.
Credit History and Auto Loans
Your credit score and history are just a couple factors lenders use to determine loan approval status. Our goal is to help customers better understand how the credit score is calculated and how it relates to the auto loan process.
In general, credit score is based on a variety of personal financing factors. These include:
Account Payment History: Missed or late payments negatively impact your credit score.
Number of Accounts: How many accounts you have open, as well as the type of accounts you have open, are factors in determining credit score.
Debt-to-Income Ratio: The amount of debt you carry relative to your income helps lenders determine how much more you can afford to take on.
Credit Utilization: The balances of your accounts in relation to the borrowing limits helps determine how leveraged you are.
Age of Credit History:Having an established long-term credit history positively impacts your credit score.
Repairing Credit
We have a wide network of lending partners and know how to work our network to find you affordable, best-rate auto loans.
We offer solutions. Visit our financing department and fill out a credit application today to learn more.